The Battle of Oaxaca Through an Ex-Pat's Eyes
Eager to See the World Get Better but Not Able to do Much About It, Suddenly the "Revolution" Comes to Our Door
By George Salzman

Special to The Narco News Bulletin
June 8, 2006
Ah! Do I love Mexico! Here we are, Nancy and I, two old American farts (Nancy objects, admonishing me, "Speak for yourself.") eager to see the world get better but not able to do much about it. And suddenly a "revolution" comes to us, right here in Oaxaca City. Even before he was "elected" as governor of Oaxaca, everyone knew that URO (Ulises Ruiz Ortiz) was filthy rich, as are all the top-level thieves in the PRI (Institutional Revolutionary Party). During the 2004 election campaign, large posters of his smiling, smug, self-confident face beamed from every tree and post from Tuxtepec up over the Northern Sierras and down into the Central Valley to Oaxaca City, and I presume everywhere else in the state. Taxis showed his face with promises of security and jobs. But he's made a mess of it and now suddenly the people are rising up, in fact, it seems that each day more and more groups within Oaxacan society are saying they agree with the maestros (teachers) who went on strike on Monday, May 29, with four relatively simple demands: adequate pay for themselves and that the state meet the basic needs of schools and pupils in poor communities.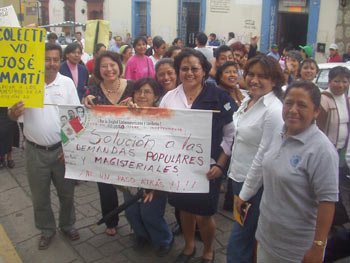 Photo: D.R. 2006 George Salzman
But
URO
, as the banners and placards in the second mega-march on 7 June label him with sneering caricatures of him as a rat, a pig, and a worm, wasn't one to seek peaceful resolution. He asked President Vicente Fox for federal backup and got, reportedly, a force of 1500
PFP
troops (Federal Preventive Police) sent to the nearby town of Tlacolula (an hour or less away). These were "battle-trained" a month ago in the vicious assault on San Salvador Atenco in the State of Mexico. And of course
URO
has his own corps of uniformed State thugs, reportedly around 800, plus some non-riot-trained uniformed state and municipal police (like the transit and tourist police, for example). He gave the striking teachers an ultimatum to return to their classrooms on Monday, 5 June, or he would begin actions against them, starting with non-payment of their salaries, and threatening to follow with the forced removal of their blockade.
The response – and no longer only by the 70 or so thousand maestros of Section 22 of SNTE (the National Education Workers Union) – was to demand Ulises removal from office (his destitution) and to intensify the pressure with blockades. The 5-kilometer "Long March" on Wednesday, June 7, started not from The Fountain of the Seven Regions within the city proper where the first mega-march began on June 2, but from the monument to Benito Juarez on the Pan-American Highway to allow for all the participating marchers, and they came boisterously and confidently, ending up at and surrounding the Plaza de la Danza and the adjacent Oaxaca City Government Building. The day before, according to the daily paper Noticias de Oaxaca, the mayor suspended the meeting of the City Council, saying he was fearful of the teachers.
¡Ulises va caer! ("Ulises will fall!") roared the thousands over and over again. A contingent of marchers came parading up Morales Street with their symbolic teaching supplies held high – carefully painted giant sharpened pencils, pens, chalk that I believe were in reality long poles of bamboo or other sturdy materials (defense weapons) – just in case…
I asked a well-dressed woman in her fifties about the massive turnout of people of all ages. She motioned toward a woman close to her, a respectable twenty-something who I took to be her daughter or niece, announcing proudly that the younger woman was a teacher. But weren't they concerned about Ulises' threats, and the 1500 federal militarized police camped nearby, I asked, adding that I hoped there would not be violence. She didn't quite scoff at the idea but assured me that nothing like that would happen. And she added the assurance that this movement isn't just that of Los Maestros (the teachers) but is of El Pueblo (the people). The people are demanding, in unison, that Ulises go. I replied that it was also the case in San Salvador Atenco that the people were united, but nevertheless attacked and brutally beaten and arrested. Atenco was small, she confidently replied; but this is huge, they wouldn't dare attack.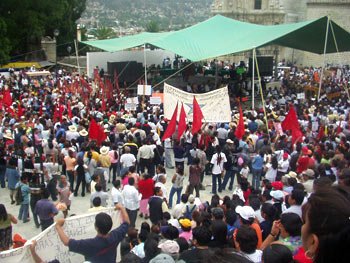 Photo: D.R. 2006 George Salzman
And I believe she's right. What is remarkable is how rapidly Ulises Ruiz Ortiz has managed to mobilize a degree of hatred across the whole citizenry. Everyone I speak with labels him authoritarian. His notorious
attack against Noticias a year ago
gained him a steadfast, knowledgeable and effective enemy. But targeting the largest-circulation daily in Oaxaca State is only one example of the "coups" he's pulled off to mobilize citizen contempt for his authoritarian regime, when all he thought he was doing was terrorizing "the enemy". Yes of course, any fragment of honest reporting must be attacked by the power structure, so believes the local small-time fascist governor. I asked my respectable middle-aged informant how she thought the conflict could be resolved. Her reply: by electing someone who will listen to the people. I don't know how that might be arranged within the framework of the Oaxaca constitution, but clearly the good woman wasn't contemplating waiting until the end of Ulises nominal six-year term of office.
A friend, a pediatric surgeon, came by this morning, unlike yesterday when, after dropping off his children at their private college (no strike there), he got caught in traffic and called to say he couldn't get here. He's not especially "political", and certainly not radical. He said that 150 thousand marched yesterday. Noticias today headlined 100 thousand, but below the huge front-page picture the caption said, In an unprecedented action, more than a 100 thousand. A contact with a group working for release of political prisoners e-mailed Nancy this morning, setting it at 120 thousand. The other daily Oaxaca City newspaper, El Imparcial, which is not particularly sympathetic to the teachers, says in a revealing front-page account, "Thousands of teachers of Section 22 of SNTE, as well as members of more than 200 social organizations of the nation, yesterday carried out the second mega march in this capital . . ." (emphasis added). The account goes on to report that the Oaxacan teachers, as well as the representatives of the social organizations, are considering whether they might be able to achieve a national 24 hour labor strike.
And from the United States, reported the June 6 Noticias, the San Francisco group "Teachers for Social Justice," comprised of teachers, students, parents and members of civil society announced its solidarity with the democratic teachers of Oaxaca, and demanded that president Vicente Fox Quesada immediately withdraw all federal police forces and cancel "every threat of the use of force" to end the protests. The growing unity, perhaps alarming the political part of the ruling class, is gaining notice in the "mainstream" corporate press. At the moment the adrenaline level of the movement to remove Ulises is very high. We'll see what happens. Adelante!
Click here for more Narco News coverage of Mexico
Narco News is funded by your contributions to The Fund for Authentic Journalism. Please make journalism like this possible by going to The Fund's web site and making a contribution today.

- The Fund for Authentic Journalism
For more Narco News, click here.