"The World Is Going to Hell, Are Ya Just Gonna Sit There?"
Some Secret History Behind the Other Journalism, and an Appeal for Rain from the News Farm
By Al Giordano

Publisher, Narco News
June 8, 2006
Dear Colleague:
The rainy season has begun somewhere in a country called América. To step outside means to get wet. Some curse its arrival. But others – like the compañero responsible for the small cornfield behind the Narco Newsroom – are visibly pleased.
The water comes down in small drops, one at a time. They enter the soil where they meet and combine forces, germinate seeds, sprout stalks, and create the food that human hands cultivate and get to your table. No single raindrop makes even a kernel of corn, or a single bean or leaf. They must descend together. And then someone or ones must rise at dawn, day after day, to care for the field and harvest the fruits of that labor.
But if you are looking, right now, at a computer screen, you probably don't live by food alone. You need to eat, but there are other hungers and thirsts. Another is for truthful information in an age of junk news. And for those of us who farm the truth, cultivate it, harvest it, and deliver it to your table, the process is much the same. We are in a similar position as the farmer: no matter how hard we work, what we produce won't grow without the rain.
In this case, the rain is you.
Oh, damn! – I can almost hear it from the five continents – another fund appeal from somewhere in América. And we can't resist because he's gonna tell us some secret history behind the news. Sorry about that. I wasn't born to write these things and you sure weren't born to receive them. We'd both like to get back to the reporting of the real news, on my end, and reading it (and distributing it, please, widely), on your end. But I will try – for those of you who actually like these letters (and some tell us that you do, especially with your contributions) to share with you a story or two behind the news, which these letters allow me to do.
The authentic news: We do give it away for free – "free means you don't pay," and it's a key part of what we do – but if you know in your heart that this farm needs some rain, because right now, today, it really does, you can skip the appeal below and just, please, make a donation online with your credit card, if you have one, to the Fund for Authentic Journalism via this link:
http://www.authenticjournalism.org/
Or by mailing your contribution to:
The Fund for Authentic Journalism
P.O. Box 241
Natick,

MA 01760

, USA
And, as Dan Feder has already announced, we'd like to show our appreciation for your donation of any size by sending you a free DVD of three of the video newsreels (in fact, the disk has six, because in includes versions in Spanish and English of each) we produced this year – "Delegate Zero in Yucatán and Quintana Roo" – because we also hope you'll organize showings, large and small, copy them, pass them around. You're not just the rainmakers here. You're also the grassroots distribution network that breaks the information blockade.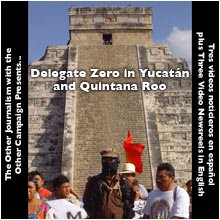 We, the farmers in this field of news, also rise with the sun to do our work. And we love it. Any day we can devote ourselves full-time to reporting important and ignored stories is a sunny day for us. And we're grateful that your participation makes it possible so that we don't have to sell ads, or cater our work to please sponsors, that it allows us to give this work – these reports, translations, video newsreels, and the rest – away for free because we know that not everyone can pay for it and that's a result of the same injustices – and the untruths that prop them up – that we expose on these pages.
Last year, in 2005, we did a lot of thinking around here (we also did a lot of work, but we also, in a way, went back to the drawing board to look at what we do at Narco News and why we do it, and how we can do it better; and we asked for your consultation, and many of you gave it to us). We'd been doing this for five years then, and found that we weren't always happy with the results of our labor. The first five years of this century in Latin America brought a lot of hope and raised expectations. Old regimes fell to new, elected, governments that talked a lot in harmony with our missions at Narco News: regarding democracy, drug policy, and human rights in particular. But after watching them carefully – these "changes" made above, on the level of governments – we found that their deeds did not match their word. And the human suffering at the hands of their policies continued, unabated.
We also lived 2005 under the immediate shadow of the fall of our colleague Gary Webb in December of 2004; something that I, for one, but not the only one, took very personally. And on a journalistic and political level, what I said then – that the canary had died in the coal mine and that the path of working through the Commercial Media was now closed – turned out to be the sad reality. Because although Narco News was never a commercial news organization, our hope and optimism often led us to look above toward the institutional media. We smiled, regularly, when they would steal our stories and bring them to larger publics. And we granted a lot of interviews to them – especially back when we were sued – something we stopped doing last year.
We've all seen it: the complete sell-out by a news media, even that which considers itself "liberal" and "open minded" but just ends up spooning out the informational junk food on finer silverware; apathy in the face of atrocity wrapped in "civility." And we looked at each other, instead, and much like out of a scene out of the recent X-Men movie where explosions, flames, and bullets are flying all over the place as the destructive force marches closer in and one of the mutants says, "the world is going to hell, are ya just gonna sit there?"
A year went by and two days after the first memorial of Gary's death, on a cold December night – it was the 12th of the month, when Mexico celebrates the feast of its patron saint, the Virgin of Guadalupe – I encountered an old friend on the streets of San Cristóbal de Las Casas, Chiapas, Mercedes Osuna, walking with her mom, doña Paula. "I've been looking for you," Mercedes said. "We want to talk with you about something. When can you come by? Tomorrow at 11 o'clock? Good, see you then!" I couldn't get a word in edgewise and I was already committed.
The backstory: When I first left the United States and entered these lands in July 1997, Mercedes directed a human rights organization in Chiapas that managed the foreign observers and journalists on the rebel indigenous lands of the Zapatista Army of National Liberation (EZLN, in its Spanish initials). Now that's a tough job, and Mercedes was and is the toughest cookie in the vast world of non-governmental organizations in Chiapas.
I remembered how back in the autumn of '97, I had been returning from a very interesting week in a town called La Realidad, but when I was descending on a bus back down the mountain another friendly bus came by and informed: the Mexican immigration authorities had set up a checkpoint up ahead. That was the era when "the migra" expelled 400 foreign journalists and human rights observers from Chiapas and deported them from Mexico. My goose seemed about to be cooked. But some compañeros on the bus that didn't want to see me carried off and dropped in Miami told me about a secret path through the woods – one that immigrants from Central American countries sometimes took, to avoid that checkpoint – and drew me a little map, and off I went, alone, through the forest. The fates were good to me and when I got back to San Cristóbal I was so excited that I drew up a map with a report of how to take that path and avoid the migra and brought it to Mercedes at her office. Silly gringo, I thought I had discovered the wheel!
My beaming smile turned to a wince when, upon reading my report, Mercedes started scolding me in Spanish, a language I was really just four months into learning. "We don't like what you did," she lectured, reminding me that I was supposed to take a different route at a different hour to leave the community, and that when I had emerged from the woods in a town governed by Mexico's then-ruling party, and the townspeople had seen the gringo hitching a ride home, the migra soon learned of it and increased the vigilance on that road. "You put other compañeros in danger!" she said. Wow, did I hate the thought of it. I had thought that I had done something super cool but it turns out that I had fucked up. She was right, of course. It was a typical gringo mistake, dressed in the rugged individualism that they inject in us from birth. And on that day I gained a profound respect for Mercedes, and realized that she had to manage hundreds just like me who come from other lands and have this individualism drummed into our characters. And it was there and then I learned that for movements to work, and for people to collaborate together against repression and adversity, one has to put the greater good ahead of the individual whim, and do so with clocklike precision.
The weeks and months went by, and Mercedes was kind to me: I was able to go to other communities, and back to the same one, various times, and never strayed again from the agreed-upon paths. And over the next three years Mercedes continued to guide my travels there, and I was able to learn everything that later became Narco News and the Authentic Journalism renaissance: a form of journalism – looking below, never selling out, learning how to collaborate with others – to which zapatismo and its ancient ways, I've said this before, deserve the lion's share of the credit.
Then, in April of 2000, came Narco News: a guy with a laptop who had the bad, then good, fortune of being sued by Mexico's wealthiest banker and narco-trafficker in the media capital of the world. And we won that battle, and one became two, and two became three, and three became the School of Authentic Journalism and today its past and future graduates and hundreds of co-publishers are reaching more readers – May 2006 set an all-time record – in more languages and with more reporting to show for it than ever before. During these years I reported from other lands – Bolivia, Venezuela, Brazil, among them – but Mexico is the place and the story that compels me to keep doing this. At some point in recent years, Mercedes left that NGO for pressing family reasons and I didn't see her again until last summer, in the Lacandon jungle, at one of the planning meetings for what has become the Other Campaign. And then in December, I saw her for the second time in years, when she invited me to come and have a talk.
At that meeting, the next day, she insisted – Mercedes doesn't ask, she tends to instruct, and in a very direct and entertaining fashion – that we form this project to cover the Other Campaign, which would launch just 18 days later. I told her I'd have to think about it. I was running out of my life's savings, my dream of buying a plot of land to build the permanent School of Authentic Journalism was already slipping out of reach, and I had, I suppose, all the kinds of ordinary problems – economic and personal – that life doles out to everybody. And I felt that with Narco News we had hit a kind of brick wall – generating stories that led to changes from above that really weren't lasting changes at all. And at the same time, we no longer were getting substantial grants for this work, we'd already crossed the line with our radical, anti-capitalist, stance, and that's no way to put food on the table (although it's the only way to put real news upon it). In the resulting frustration, I wanted to retreat, to retire, to write and play more music with that Dobro guitar that the narco-banker had so coveted (which is what I had been doing, in clubs, at that time, while others ably ran Narco News). But Mercedes can be very convincing. The Other Campaign, she pointed out, could serve as the path to deepen an "other" kind of journalism.
I got on the phone with some graduates, in Mexico, of the Narco News School of Journalism, class of '04, who had worked with us that year in Bolivia: Quetzal Belmont, Sarahy Flores, and Greg Berger, and relayed the proposal that we put our cleats back on and get out on the field again. I checked with Dan Feder and Luis Gómez, in South America, and everyone expressed enthusiasm. And the next day I went to see Mercedes and said, "Okay, you win again. We're going to do this. Give me a day to put it together and I'll be back with a report tomorrow." And 16 days later, on December 30th, a team of us met on the Yucatán Peninsula – slated to be the Subcomandante's first stop outside of Chiapas on his six-month national tour – and set to work: Sarahy, Quetzal and Greg, plus Teo Ballvé and Barrett Hawes coming down from New York, and Karla Aguilar in from Houston, and Jim and Ellen Fields right there in Mérida. Also there on the Yucatán, my co-defendant Mario Menéndez Rodríguez, publisher of the region's largest daily newspaper, Por Esto! offered and delivered all kinds of good advice and contacts across the peninsula. From there we continued… Oaxaca, Tlaxcala, Querétaro, Michoacán, Morelos, Guerrero, the State of Mexico, Mexico City… Atenco. And since then – May 3rd, we've bunkered down in the center of this country reporting about an atrocity and its aftermath.
After five months and about 400 original reports, translations, and newsreels – and millions more readers than ever before – later, I don't even mind that, once again, I've spent the last of my savings to keep this team reporting (food, lodging, transportation, supplies) and have traded in other dreams for this one. Almost every day has been a sunny day for five months, because we've been able to do this work, and do it well. Narco News is already not the same as it was before, and in some small way I suspect that the Other Campaign has grown, in part, to be something else with the efforts of so many of the collaborators in this project. And we know that is the case with the current priority: to free those unjustly imprisoned and battered since May 3rd in San Salvador Atenco, and assure that it never happens again. So when Zapatista Subcomandante Marcos said, as he did on May 20th, that the campaign to right the wrongs of the atrocity in Atenco "has an international force that the (1999) strike at the National Autonomous University of Mexico (UNAM) did not have, and that the Zapatista Army of National Liberation (EZLN) never had," we – and each of you that has supported or participated – feel we're on the right track; that without this labor, internationalizing a conflict and the facts that the giants of State, Media and Business had hoped to keep hushed and localized behind national boundaries, this would be a very different, and sadder, story already.
Today, there are 44 colleagues on the masthead of the Other Journalism with the Other Campaign that have made this project work. I am proud to call each and every one compañero, compañera. And I know that each of them has made the same sacrifices I've made to forge an "Other Journalism" from below and to the left. Each and every one has given all they have, including spending their savings, paying part or all of their transportation and expenses, including giving up paying gigs to be able to donate their labor to this one. Some have had to cross the border to find work after they went bust bringing you the news. Obviously I can't thank them by name in that context. But you'll be hearing from them again soon, from somewhere surprising in América.
We have also suffered casualties. One of your correspondents lost her job with an international television giant, Telemundo. Two went to jail in Oaxaca for the crime of reporting a story that the State didn't want you to know about. One of us was physically attacked at the gates of a prison and then denounced to immigration authorities, but is still, fortunately, at large. One left his very successful video-editing career in New York for four months: Barrett Hawes is his name. Let me tell you about Barrett (J-School, class of '04). He came to Mexico in December, then went, in February, to Bolivia to help Greg Berger film "The Gringotón Diaries" (the much anticipated sequel to Gringotón, showing in the Salón Chingón cinema), and then came back to Mexico to continue with the Other Journalism, until he had spent every last cent he had saved back home, and returned to the Big Apple in April. I still remember the day, in Guerrero, when Barrett and cameraman Sean Geary – neither of whom are fluent in Spanish – found themselves in the middle of a violent confrontation in 90-degree heat, and jumped in with their cameras fearlessly – I sent Amber Howard, fluent in Spanish, to watch one's back while I watched the other's. Some of the casualties have been material. In these five months, three members of our video team lost their cameras to the push and shove of this kind of work (anybody have a spare video camera that shoots mini-DV to donate?). All this to provide you with, so far, seven video newsreels; five produced collectively, another – inside the Ixcotel prison – produced by Jill Freidberg and another – "We Are All Atenco" – produced by Greg, Barrett and Sean in New York… and various more newsreels in production as I type.
It's messy, at times, this kind of work. We don't have insurance policies, or a safety net that would come with whoring ourselves to Big Media. We don't have the protection of the police – or the institutional "press freedom" organizations that the Big Media correspondents enjoy. To the contrary: There's always the threat – as happened to colleagues from other independent media in Atenco – of being deported or imprisoned or beaten or raped or worse (such as what happened to our compañero Alexis Benhumea) for the crime of reporting a story. That's something that happened just a month ago. But what we have – and we have practiced daily since the first of the year – is the freedom to go where the institutional media won't go, and to tell the true stories in the voices of those from below that the institutional media will never tell.
And that freedom came – and we hope it will continue to come – from you.
Because you, on the other side of this Other Screen who have supported this work, and who are about to do so again, have freed us from the chains that the official correspondents accept when they leave the upsetting facts out of their stories; from the frustration of the camera persons for commercial TV or commercial newspaper photographers who risk their safety to show a violent truth only to find that their bosses bury the film in some desk upstairs, never to be broadcast or published. You – those of you who have rained life on this authentic news farm through a thousand drops in the bucket – have made it possible for us to not be slaves. You are our "underground railroad."
And not being slaves has given us the privilege of not thinking as slaves. And that makes all the difference in the world in the kind of journalism we are able to give you. Because it is fundamentally different to report as a free man or free woman than it is to report with the self-censorship and knowledge that you can't tell the whole truth.
And I still don't have all the words to describe what these five months have meant for the Authentic Journalism renaissance, but from my heart I know that, with your help, we have advanced way beyond what we imagined was possible, that through our deeds we are writing the new manual, and that, with your continued help, we will continue advancing in an epoch when so many good people are forced to retreat.
And if any of what I've shared with you today connects with that best and generous heart of yours or makes you feel the optimism that we feel – even under adverse circumstances (because we know you face adversity in your life as we do) – then I ask you, again, to dig deep in your pocket and donate to keep this project going. We still haven't paid all the bills from the first five months – I have more than a thousand dollars in back rents breathing down my neck for our workspaces, telephone, electricity and other debts that are overdue. And the next month – as Mexico's national election approaches – threatens to produce more censored news to break than the last month. It would really be unfortunate to have the phone and Internet cut off, or to be evicted, at a time like this.
And then there is – because we have kept the rest of Narco News' missions alive during this intense five months – the ongoing work of reporting on the drug war and democracy from the rest of a country called América, the reports from Bogotá to the Border to Buenos Aires to Bolivia, and the continued participatory journalism of the Narcosphere, that just keeps coming and coming, through this project that has vindicated authenticity in journalism, and put a renewed, and higher, value on the truth, the whole truth, and nothing but the truth, even when – especially when! – it discomforts those above.
And so, from this news farm, we pray for rain. And from you, we ask for it. Rain on this project with the water we need to keep cultivating the facts and the voices from below and to allow us to deliver them to your door, by making your contribution – now, please, before you forget or spend it on something else – via this link:
http://www.authenticjournalism.org/
Or via snail mail, making your check or money order out to:
The Fund for Authentic Journalism
P.O. Box 241
Natick,

MA 01760

, USA
(And remember to include a mailing address if you want the DVD.)
And, finally, if what you can give is not financial, but lies in your talents, as a communicator, reporter, writer, translator, documentary filmmaker, radio journalist, or any of the many other skills that a team like this needs, and you, like 44 and more of us, are willing to sacrifice comfort for the privilege of afflicting the comfortable and the dishonest, drop me a line at narconews@gmail.com because, as somebody said earlier in this letter, "the world is going to hell, are ya just gonna sit there?"
From somewhere in a country called América,
Al Giordano
Publisher
The Narco News Bulletin
Road Team Coordinator – The Other Journalism
http://www.narconews.com/
narconews@gmail.com
Click here for more Narco News coverage of Mexico
Legga questo articolo in italiano

Narco News is funded by your contributions to The Fund for Authentic Journalism. Please make journalism like this possible by going to The Fund's web site and making a contribution today.

- The Fund for Authentic Journalism
For more Narco News, click here.