"We Are Trying to Construct Something Different, Something New: A New Way of Doing Journalism"
But for the Work That We Do, Words of Support Are Not Enough
By Teo Ballvé

The Other Journalism With The Other Campaign
February 9, 2006
Dear Reader,
The most powerful weapons wielded by the Zapatistas have never been their rifles, but rather their dignity, their truth, their word. The rebel words of the Zapatistas are shots heard around the world, ricocheting as poetry, as riddle, as fable, as declaration and more.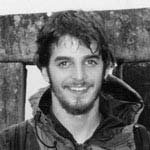 Teo Ballvé
As their namesake hero, General Emiliano Zapata, once declared, "It is not only by shooting bullets in the battlefield that tyranny is overthrown, but also by hurling ideas of redemption, words of freedom and terrible anathemas against hangmen, that people bring down dictators and empires." The Sixth Declaration of the Lacandon Jungle echoes the words of Zapata: it invites those fighting from below and to the left to join together, to speak words of freedom, to share ideas of redemption and, above all, that these be listened to in the service of a radical transformation.
With the plan laid out in the Sixth Declaration, the voices in the wilderness calling out with indignation, dignity, resistance and hope are being harmonized into an orchestrated chorus called "The Other Campaign" – the siren song of rebel Mexico. It carries not only the words of the Zapatistas, but also those of all Mexicans who lack democracy, freedom and justice.
Your hardworking, all-volunteer team of Authentic Journalists have brought you the sights, sounds and words of this siren song, and we will continue to do so, but we need your help in a big way. Unfortunately, for the work that we do, words of support – kind and inspiring as they may be – are not enough.
The Other Campaign is about making a choice, about taking a stand. It asks people to decide if they will allow things to continue as they are, or if they will join and contribute to the changes afoot. We, your dedicated correspondents, have also taken a stand. We are trying to construct something different, something new: a new way of doing journalism. Our coverage, during the first part of The Other Campaign, gives you, kind reader, a glimpse of what this very "Other" kind of journalism sounds and looks like.
Back in 1997, Subcomandante Marcos elegantly described the work of independent journalists: "Truth becomes a knot of resistance against the lie. Our only option is to save the truth, to maintain it, and distribute it, little by little, in the same way that the books were saved in Fahrenheit 451; a group of people dedicated themselves to memorizing the books, to save them from being destroyed, so that ideas would not be lost.
"In this way, independent media tries to save history – today's history – tries to save it and tries to share it so it will not disappear. Moreover, it tries to distribute it to other places, so that this history is not limited to one country, to one region, to one city or social group."
That is what we do. That is what we are doing, in Mexico, in Bolivia, in Colombia, in all of Our América and beyond. We save today's history – today's truth ¬¬– so that it's not something that has to be whispered in secret like a bad word or mediated by monopolies that only seek to suppress it and destroy us.
Mirroring The Other Campaign, our work is not to look at the top of society's pyramid to see who is standing there; instead, we look to the people at the bottom, to the ones who are holding this pyramid up and who, therefore, have the power to flip it upside down.
The voice of the Zapatistas is joining with the voice of those, who like them, want to radically transform their society and the world. The Other Journalism ensures that this voice – a chorus, really – is listened to beyond the meetings and speeches of The Other Campaign. What's more, your correspondents are committed to not solely reporting the discourse of leaders and spokespersons; our lens is also focused on the words, the ideas and the daily struggles of common people, the ones on whose shoulders The Other Campaign now rests.
At this early stage, it is more important than ever that this history-in-the-making be told, preserved and disseminated. Please, make a donation today, online, via this website:
http://www.authenticjournalism.org
Or send a check, made out to "The Fund for Authentic Journalism," to:
The Fund for Authentic Journalism
P.O. Box 241
Natick,

MA 01760 USA
This story will continue, but it cannot be told without your contribution. Please help us provide the means through which people all over the world can have a ringside seat, to know what's happening, to understand it and to take lessons from it. And, above all, let those who are carrying forth The Other Campaign know that their voice is not a shot in the dark; let them know that all of us are watching and listening.
Thank you,
Teo Ballvé
Correspondent, The Other Journalism with the Other Campaign
Graduate, Narco News School of Authentic Journalism 2004
Editor, NACLA Report on the Americas
Narco News is funded by your contributions to The Fund for Authentic Journalism. Please make journalism like this possible by going to The Fund's web site and making a contribution today.

- The Fund for Authentic Journalism
For more Narco News, click here.