Narco-Scandal Rocks Argentina: Kirchner Confronts the Military
The Quiet Man from Patagonia Forges a New Approach to Drug Policy
By Al Giordano

Special to The Narco News Bulletin
March 2, 2005
A new star is rising in América's quest for more honest and effective drug policy. His name is Néstor Kirchner, he is president of Argentina, and he has recently fired a score of top military officials in a narco-scandal rocking the country. He has recently confronted white-collar narco-traffickers in the airline business, moved the threads to widen the investigation to Spaniard involvement in drug trafficking. And he has now taken the Armed Forces out of drug enforcement tasks placing that work back under civilian command. These bold actions of the past two weeks have been so far ignored by the English-language Commercial Media: they are loathe to give the man of the hour his fifteen minutes, because the drug policies of a hemisphere are at stake.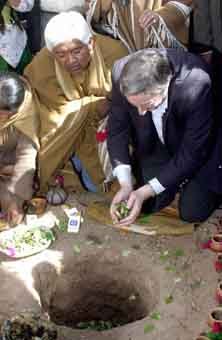 President Kirchner holds coca leaves during an indigenous ceremony in August, 2003.
Photo: Courtesy of the President's Press Office in Argentina
Yesterday, Kirchner met, in Montevideo, with his superstar counterparts, Lula da Silva of Brazil and Hugo Chávez of Venezuela, during the inauguration festivities for Uruguay's new president Tabaré Vásquez, who now becomes the fourth center-left spoke to the rising Southern Cone. Less flashy than his presidential neighbors in Caracas and Brasilia, unsupported by Washington unlike his obedient counterparts in Bogota and Santiago, Kirchner is getting the job done not with mere words, but with deeds. As columnist Mario Wainfield
writes in today's daily Pagina 12 newspaper
in Argentina, "Néstor Kirchner is not… a grand orator." But lately, he's been carrying a very big stick.
Few in the international Commercial Media paid attention when, as one of his first presidential acts, Kirchner appointed prominent drug legalization advocate Eugenio Zaffaroni as chief justice of Argentina's Supreme Court. He was met with the same silence when he knelt with indigenous leaders before the coca leaf and called it sacred. Now he's done what others said they would do but didn't: Kirchner has taken on, without mercy, drug prohibition's corruption of the highest levels of business and in his nation's historically repressive Armed Forces.
Where are the laurels and attaboys from Washington for a Latin American president who finally and unequivocally fights against narco-trafficking at its highest points on the pyramid scheme? Where are the glowing profiles by the international press of South America's most daring drug-warrior head of state? Could it be that Kirchner's emerging drug policy – one that responds decisively to real life events and not to some tired ideological script, and that goes after the big sharks rather than the small fry – is, itself, such a grand threat to the status quo of the drug war and its money-laundering business interests that it is one of those matters of which cannot be spoken?
But Kirchner – with competent grassroots movements organizing below radar – is quietly constructing a better mousetrap when it comes to drug policy. And as the saying goes: They will come.
Air Cocaine Falls from the Sky
It's little wonder that Martin Scorcese's motion picture The Aviator is beating Clint Eastwood's Million Dollar Baby at the Argentine box office. The eyes of the nation are, not surprisingly in the context of a blockbuster cocaine air trafficking scandal, raised up toward the skies.
In this country of 40 million people, where corruption became a blood sport among previous US-backed presidential administrations, where repression, dictatorship and impunity were the trademarks of the Armed Forces, a crack has opened in those skies for the light to fall through.
A drug bust in Spain on September 16, 2004 forged the first fracture in the media-maintained ceiling that kept the truth in darkness. Sixty kilos of cocaine were found in suitcases on a flight from Argentina via Southern Winds airlines. Launched in 1996, the airline swiftly grew to become the number-one domestic carrier in Argentina. By 2001 it went continental, offering flights to other cities in South America. By 2002 it began flights to Miami, New York, Los Angeles and Madrid. Last year, it doubled its number of flights to Spain. Subsidized by the Argentine government of disgraced president Carlos Menem, the sky seemed the limit. In fact, it was.
In a February 13 press release, defending itself from the mounting clamor and investigation, the Southern Winds company told the story in its own words:
"…on September 16 four suitcases without a passenger, that had been rejected days earlier, flew (to Madrid on a Southern Winds flight). According to the facts investigated, a Traffic employee, Walter Beltrame, now a fugitive, authorized the shipment. Beltrame then disguised himself as the chief of Attention to Passengers in the Ezeiza International Airport (of Buenos Aires) and had flown to Spain in the previous flight. Beltrame (was) authorized by Fernando Arriete, at that moment the company's international sales chief, and today under arrest."
The suitcases filled with 60 kilos of cocaine were also marked: "ARGENTINA EMBASSY IN SPAIN." They were falsely identified as packages traveling with a passenger.
Walter Beltrame, the alleged smuggler, is just 22 years old. He's no longer a fugitive: he turned himself in to Argentine authorities on February 17 and has been placed in solitary confinement until a hearing scheduled for Friday. But it's not the youthful indiscretion by this kid that led to the scandal exploding throughout the country. Nor is it the mere 60 kilos from a country that seizes 50 tons of the white powder a year. Here's the money point that caused a larger thread to unravel: Young Beltrame just happens to be the son of the military official who ran the Ezeiza International Airport of Buenos Aires at the time when the young man shipped the cocaine: Brigadier General Alberto Beltrame. Other high military commanders then covered up the crime, failed to inform the defense secretary or president, and now heads are rolling faster than jet wheels on a runway.
According to the Cuban press agency, Prensa Latina, the elder Beltrame was detained on February 24 for ten days of questioning, "after he admitted knowing some details about drug trafficking from Argentina to Spain." (That would be interesting from another angle, too: these drug shipments don't get into Spain without complicity by Spaniard officials. There is a huge international house of cards built atop these four suitcases. As the daily Pagina 12 reported today, following up on accusations the newspaper made before this scandal surfaced: "Today there will be a hearing with the lawyer of a Spaniard couple, now prisoners in that country, while investigators consolidate a hypothesis that they are part of the narco group's European connection. The investigators say that they have been operating in Argentina for at least ten years and that, among other airlines, they've used Argentina Airlines.")
Suddenly it's not just one or two military officials, and not just one international airline, and not just officials from one country, in the sights of prosecutors. There's a whole ball of narco-wax being put to the fire.
Hours before young Beltrame turned himself in, Argentina Customs Director Ricardo Etchegaray told the press that the National Aviation Police (PAN, in its Spanish initials) and the private-sector security company TAS should have scanned detected the cocaine during routine inspection that involves four separate scans for contraband. Airport security tapes – which could have provided important evidence in the case – were destroyed before the news of the seizure in Spain reached Argentina's secretary of defense. Military officials and the nation's drug czar knew all about it. Now they will face the consequences of violating the first dictum of any competent organization: "Be the first in the door with bad news."
The Purge of the Old Military
The day after the junior Beltrame turned himself in, President Kirchner forced Brigadier General Carlos Rhode, a war hero from the Malvinas (Falklands, in Britspeak) Islands conflict against Great Britain, to retire. He passed over 17 other Air Force officials, also nudged into retirement, in order to promote Brigadier General Eduardo Schiaffino, from Kirchner's Patagonia region, to take his place at the head of the Air Force.
Rhode, said Kirchner, was fired for having withheld information: He knew of the cocaine found in Spain as early as October, but never informed the president or the defense secretary.
Heads have been rolling non-stop in recent days. Kirchner, last week, ordered the firing of Horacio Giaisgischia, chief of the PAN (the aviation police). He appointed the first-ever civilian to the post: Jaime Garreta, an assistant defense secretary.
Indeed, this is similar to moves made by Kirchner when he first took office in 2003, immediately firing 45 Army, Navy, and Air Force generals linked to previous regimes. He conducted similar clean-ups in the national police and the Supreme Court.
Marcela Valente offers a comprehensive look, via IPS News, of Kirchner's ongoing struggle to wrestle the Argentine Armed Forces from the vestiges of military dictatorship, and to get the military out of tasks – like air traffic policing – more appropriate to civilian agencies.
Indeed, Kirchner has now tanked the Air Force-run aviation police agency altogether, and placed a new Airport Police agency under the command of his chief of staff.
Former president Carlos Menem – whose US-backed administration was plagued by narco and money-laundering scandals – recently appeared in public (like herpes, he flares up from time to time) to whack Kirchner for "constantly attacking the founding and fundamental institutions" like the Armed Forces and the Catholic Church. (Mr. Menem: do not ask for whom the bells toll….)
But perhaps the most interesting part of the narco-scandal shaking Argentina (and soon the world) today is that the man who is taking decisive action against the stratospheres of narco-trafficking – President Néstor Kirchner – has already demonstrated his support for "harm reduction" programs to reduce the harms associated with drug use under prohibition, has already appointed a Supreme Court chief who wants to reform drug policy away from the gringo model of prohibition, and who understands that the coca leaf is not the same as cocaine, respecting its indigenous and traditional uses.
And this presents a new problem for Washington and its secretaries in the Commercial Media: The most effective drug warrior in the hemisphere – kicking ass and taking names of the high level narcos in Argentina – is not in favor of the imposed policy from the North. The soft-spoken man from Patagonia – with stronger alliances every day with Brazil, Venezuela and now Uruguay – is emerging as an international leader who shows the world a new and different path for dealing with that delicate matter called drugs. And he's got what all pilots need: a flight plan. Ladies and gentlemen, please fasten your seatbelts and put your tray tables upright…
Lea Ud. el Artículo en Español

Narco News is funded by your contributions to The Fund for Authentic Journalism. Please make journalism like this possible by going to The Fund's web site and making a contribution today.

- The Fund for Authentic Journalism
For more Narco News, click here.