"You Are Supporting Something Very Powerful"
A Letter to Readers from a Narco News J-School Graduate-Turned-Professor
By Andrew Stelzer

2004 Narco News Authentic Journalism Professor
September 8, 2004
Dear Reader,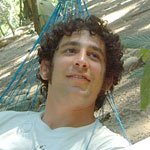 Andrew Stelzer
Al asked me to write a letter to you explaining why you should support Narco News and the School of Authentic Journalism. I don't really know where to start. I have a very hard time even explaining what the "J-school" is… Or was… Or will continue to be… with your help.
You could support the j-school because it allowed me, a journalist working in the

USA

, to begin to understand what's going on in Latin America. It allowed me to understand what the smart people in the US government don't want you to know: that the Latin American people are not stupid and that they are organized and gaining power. What the US media won't tell you – either because their foreign correspondents don't have the human emotional sensors to understand what they see, or because their editors won't let them express it in writing – is that entire nations are rising up for the right reasons.
You could support Narco News because they take an active role in shaping policy—and they aren't ashamed to tell you, the reader about it! That's transparency… that's trusting the readers to decide for themselves, armed with the facts.
You could support gatherings like the recent J-School in Cochabamba because it allowed me to train citizen/journalists from Brazil, Mexico, Bolivia, and Uruguay, and arm them with equipment. I work with Free Speech Radio News; we give reporters all over the world minidisc kits to start reporting from their own communities. That's what I call providing dangerous weapons.
Do you have any fuckin' clue what's really goin' on in Venezuela? Bolivia? If you do, I'll take one guess where you found out. (Gringos only please.) Does it start with an "N"?
This network is growing. Read Al's manifesto. It's the salon, just not all year round — yet. These physical links between people need to happen, and they don't come for free. In the past 10 years, have you ever read about how "the Internet is a tool, but its real value is when it can facilitate something in the real world?" This is what those people were writing and talking about – if you weren't at the J-School, you're just gonna have to trust me on this one. You are supporting something large, something powerful, something that could be seen at the very least as "pretty cool" from the womb of one of the world's liberal enclaves. But it is also a tremendous source of inspiration and hope for people who are living under the rule of corrupt liars, in communities of people who believe them. The website, the gatherings, the network, the project, the idea(s). They all need to keep happening…
The stupid drug war. Nuff said.
These are just a few of the hundreds of reasons to support Narco News and the School of Authentic Journalism. We support them, of course, through The Fund for Authentic Journalism, with donations made online at this location:
http://www.authenticjournalism.org/
Or by sending a check today to:
The Fund for Authentic Journalism
P.O. Box 71051
Madison Heights,

MI 48071
The list goes on and on. I just happened to write this letter tonight, and these are the things that popped into my head.
Thanks for your donations,
Andrew Stelzer
2003 Authentic Journalism Scholar
2004 Authentic Journalism Professor
Narco News is funded by your contributions to The Fund for Authentic Journalism. Please make journalism like this possible by going to The Fund's web site and making a contribution today.

- The Fund for Authentic Journalism
For more Narco News, click here.