Piedad Córdoba: Plan Colombia Has Been a Total Failure
A Colombian Senator Criticizes U.S. Policies Imposed in Latin America
By Alex Contreras Baspineiro

Narco News South American Bureau Chief
June 10, 2004
"The last two Colombian governments, even more [than their predecessors], have been mere puppets of the United States government and global investors" – Piedad Córdoba, Colombian Senator
LA PAZ, BOLIVIA: The U.S.-imposed Plan Colombia is not a solution for the rebuilding of government legitimacy and rule of law, and even less for the strengthening of democracy, according to Colombian senator Piedad Córdoba. Rather, she said, it is a tool for criminalizing Colombian and other Latin American social movements with false rhetoric about a war on drugs and terrorism.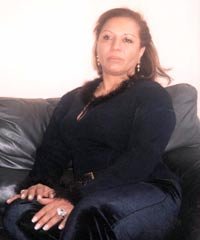 Colombian senator Piedad Córdoba
Foto: Alex Contreras Baspineiro, D.R. 2004
In an interview with Narco News, Córdoba said that the Colombian government has not used the resources received through Plan Colombia as promised for the fumigation and eradication of coca crops or for fighting drug trafficking. They have instead used those funds to persecute, apprehend and assassinate supposed terrorists, who usually turn out to be members of community groups, trade unions, or human rights organizations.
The first version of Plan Colombia – developed under President Andrés Pastrana (1998-2002) – was written in English. Its origin in the United States government cannot be denied.
"Plan Colombia primarily serves U.S. interests in Latin America, especially in Colombia itself," Córdoba said. "The U.S. wants to become a kind of guardian over Colombia, a wall to block the very democratic security that it claims to promote."
The last two Colombian administrations, more than their predecessors, have been "mere puppets of the U.S. government and global investors."
Kidnapping
Córdoba was in Bolivia on a humanitarian mission, together with social leaders José Bové from the French Confédération Paysanne ("Farmers' Federation"), Honduran leader of Vía Campesina ("Farmers' Path") Rafael Alegría, Frey Sergio from the Brazilian Landless Workers' Movement, and her compatriots Belén Torres of the Colombian National Association of Peasant-Farmers, Gloria Flores and Andrés Cortés. They came to La Paz to defend Francisco "Pacho" Cortés, a Colombian activist who has spent more than a year in Bolivian prisons, accused of terrorism, armed revolt, and drug trafficking with no evidence or formal charges.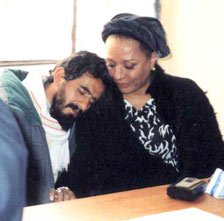 Piedad Córdoba with Francisco Cortés at the San Pedro prison, in La Paz
Foto: Alex Contreras Baspineiro, D.R. 2004
On Tuesday, June 8, while visiting Cortés in the San Pedro prison, the Colombian senator revealed that, while she had never spent time in jail, she had been kidnapped. About four years ago, a paramilitary group kidnapped Córtez from a medical clinic in her country.
"I had recently had an operation," she recalled, "and a group of twelve heavily armed men, acting under orders from Carlos Castaño's organization, took me by force and held me for sixteen days."
The Colombian paramilitaries are another fruit of the United States' militaristic policies. They are groups that receive financial and logistical support from drug trafficking and from the government itself to put down social movements.
The senator called her kidnapping strictly political, carried out because of her political and ideological positions. For years now she has stood firmly against Colombian militarism and its resulting massacres, displacements, assassinations, and persecution of trade unionists and social activists.
Terrorism
On more than one occasion during their visit to San Pedro, the Colombian legislator and her companions could not hold back their tears as they listened to the accused "terrorists" tell their stories. She and Bélen Tórres cried together with Francisco Cortés, and she said she was deeply moved by imprisoned Bolivian coca grower Marcelino Jancko's testimony.
Terrorism, said Córdoba, is more than just its traditional definition: a premeditated act meant to instill panic and fear, immobilizing a population. It is also a concept currently applied to any person who thinks differently, or who opposes the arbitrary and repressive policies that the United States government imposes by force.
Regretfully, said Córdoba, despite the series of repressive policies such as Plan Colombia that the U.S. and her own government have imposed, the situation in her country has just become more and more unstable.
"The current situation is tense and difficult," she said. "Every day the crisis gets deeper. There are people who have made the decision to look for a military solution for a problem that is connected, inarguably, to the drug trade, but also to misery and poverty."
She called "soaring unemployment" the central problem for Colombia and other Latin American countries. "Every day unemployment gets worse as neoliberal economic policies are further implemented, as state companies and everything public are privatized. There is no social justice. That is the problem."
Córdoba said that programs like Plan Colombia or Mexico's Plan Puebla Panama don't benefit anyone in Latin America, and should be fought with social movements.
Lea Ud. el Artículo en Español

Narco News is funded by your contributions to The Fund for Authentic Journalism. Please make journalism like this possible by going to The Fund's web site and making a contribution today.

- The Fund for Authentic Journalism
For more Narco News, click here.