Gringo Style Drug-War TV Ads Blame Violence on Users
Brazilian "Partnership Against Drugs" Proves to Be a Drug-Funded Farce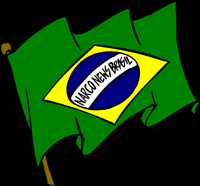 By Carola Mittrany

Special to The Narco News Bulletin
May 30, 2003
RIO DE JANEIRO, MAY 30, 2003: "You're not dependent on drugs. The traffickers are dependent on you," is the newest anti-drug slogan circulating in Brazil. On the air for almost a month, and paid for by private industry, the slogan is shouted from billboards in the major cities of the country as well as on TV, radio, and in print media. It is a strategy aimed at impacting a society made fragile by the problem of violence. But is it honest?
The campaign seeks to sensitize potential drug users – that is to say, nearly seventy percent of those who admit using illicit substances, says André Eppinghaus, creative director of the new campaign, through the "Partnership Against Drugs" website. (Interestingly, the website's home page currently features an essay by the same psychiatrist Ronaldo Laranjeira who was caught last week inventing absurdly untrue claims about the effects of marijuana (see "U.S.-Funded 'Expert' Brings 'Reefer Madness' to Brazil," Narco News, May 20, 2003). The discredited Laranjeira is also listed on the Partnership's advisory board: how credible can such an organization be?
And what about the rest of the users? The users who are dependent on drugs, what way out do they have? What about the street kids who are sniffing glue in order to avoid sensations of hunger. What solution is there for these kids?
The most curious thing is that this campaign is very similar to the recent anti-drug campaign broadcast in the United States that blamed drug users for financing terrorism. Not withstanding, the campaign ended up being a tremendous failure according to a study commissioned by the same White House anti-drug office that funded it, and was pulled off the air. Also revealing about the attitude of drug warriors in Washington, from whom the new Brazilian ad campaign takes such inspiration, is that the U.S. government then cancelled funding for future studies of the effectiveness of its anti-drug ad campaigns, so it won't have to bother with the sticky question of their effectiveness in the future.
The U.S. government campaign (like the private-sector ad campaign in Brazil) didn't do anything to educate about the health risks of drug use. It did not stimulate dialogue between parents and children. Beyond that, the campaign "forgot" to say that it is precisely the War on Drugs that is responsible for the surge of illegal markets that sustain the violence, notes the Drug Policy Alliance, the major U.S. organization that promotes alternatives to drug prohibition. In other words, campaigns like this are a massive waste of funds and the question remains: Why is it being copied now in Brazil?
It is also necessary to note that the Brazilian Partnership Against Drugs is a non-governmental organization funded by various private-sector businessmen, among them Luiz Fernando Furlan, the current Minister of Development, Industry, and Foreign Commerce, and Horácio Lafer Piva, president of the Federation of Industries, of the State of São Paulo. It's financial support comes from corporations, including large banks (drug money laundering, anyone? Santander bank, one of the conglomerates behind this program, was caught in a drug money laundering sting operation by the U.S. DEA, Customs, and Federal Reserve Board in 1998), and the pharmaceutical companies Eli Lilly and Pfizer, among others.
Maybe they should start their ad campaign by educating about the potential harms of their own drugs.
According to Pfizer's own statements, its anti-depression pill Zoloft can cause "side effects" such as "nausea, headache, dry mouth, diarrhea, sleep disturbance and loss of appetite," as well as "drowsiness, sexual problems, nervousness, and tremor."
And if you try to solve any of those pesky "sexual problems" with Pfizer's wonder drug Viagra, beware: According to the company's own fine print, Viagra's most common adverse effects are "headache and facial flushing" and the pill can also cause "indigestion, dizziness, stuffy nose, and effects on vision… in extremely rare cases, a man may have an erection that lasts many hours. You should call your doctor immediately if you ever have an erection that lasts more than four hours."
Or how about the Brazilian anti-drug Partnership's corporate sponsor Eli Lilly? Shouldn't the Partnership first warn the public about the drugs that company manufactures? Take Eli Lilly's famous pill Prozac for example. According to its own fine print, Prozac can cause "nausea, difficulty sleeping, drowsiness, anxiety, nervousness, weakness, loss of appetite, tremors, dry mouth, sweating, decreased sex drive, impotence, or yawning." (Well now we know why Dr. Laranjeira doesn't speak so loudly about the true harms of some drugs; he's got a conflict-of-interest through his involvement with the Partnership).
With so much money behind the Partnership, it's a wasteful luxury that these funds are not invested in more effective programs or more original ones than the model copied from propaganda that has already been proved a failure. One doesn't need to be Shakespeare to intuit that something is rotten in the air.
First, not all users want to be off drugs. We must turn thus to the Brazilian constitutional precept of Public Health, that guarantees universal health care without exceptions under any pretexts or allegations that would permit the exclusion of a determined segment of society from its benefits. In this way, instead of blaming the user, the real alternative is to rescue the active role of the person in question .
And this is the goal of Harm Reduction organizations, that seek to bring the marginalized individual back into society. So, what is the sin of someone whose drug use doesn't cause him to stop working, studying, or care for the people around him? Let's be honest. Not every person who uses drugs represents an evil toward society. On the other hand, those individuals who are said to be "free" of drugs but who love to fight or are evangelical church pastors – like the state public safety secretary in Rio de Janeiro and first husband Anthony Garotinho – are not excluded from the definition of having bad character.
The question we must ask ourselves is: Why does a person use drugs? The reality is that drugs give a feeling of well being. However, most of the anti-drug campaigns demonize drugs and once a person experiments with the drug, he or she feels betrayed, forgetting that the drugs can really cause damage. That's why the manner in which a user handles drugs is important to address and not simply if he or she tries it or uses it occasionally.
And, after all, what is a drug? Could it be said that it is everything that, in any form, harms us? As such, Coca-Cola could be considered a drug, as well as working too hard. It's our excess that causes problems. And clearly, it can't be ignored that drugs have specific properties, that, distinct from soft drinks or repetitive work, are alienating. That's why everything depends on how the drug is used. If one person smokes and another drinks now and then without harming their other spheres of life, what is the problem? The danger is that the obtaining of the substance becomes symptomatic and the person can't do anything without the drug. We have to widen the meaning of drugs and accept that they are objects that can bring a lot of pleasure, but also a lot of anguish and anxiety when seeking them becomes a constant and a requirement for well being.
This question certainly deserves more discussion than just a couple of paragraphs, but that is not the matter that this text wishes to discuss right now. What interests us here is to address the issue of drugs in a more honest manner, to open a discussion in public so that it will be possible to formulate a new drug policy, that depends on deeper analysis of the problems generated by trafficking and that opens the path for truly transforming alternatives.
The media, for its part, has stopped complying with its role of providing information services and instead confuses the spectator with hypocritical morals and values. By means of its sensational and alarmist coverage, that focuses basically on consumption and trafficking in a retail level, it reduces the discussion and marginalizes the drug user at the same time that it creates a false distinction between the "healthy and well adjusted" and those who are considered "misfits," who would rather smoke a joint at home with friends than go out and spend their money in fashionable nightclubs flowing with alcohol. It's clear that the media does nothing more than invent stereotypes.
The question of drugs is global and multidimensional. It covers issues that are each complex like arms trafficking, unemployment, and lack of resources for health and education. However, the State prefers to look the other way and treat the issue in a simplistic and ineffective manner. The government of Fernando Henrique Cardoso, the immediate past president of Brazil, did not speak of education and consciousness-raising on the drug problem, it only repressed the user, based on the United States model. Unfortunately, our current president, Lula da Silva, continues with that program.
Thus, what is needed? The response is not simple. It requires a better effort than the one made now, as the search for pleasure by means of substances that alter our psyches is found in the roots of the very history of humanity and repressing this behavior has not advanced anything.
Being this way, it becomes necessary to invest the citizenry with wider and less coercive solutions. At minimum, it is strange that more is invested in repression and less in culture and education. In the end, what do we want? Individuals, conscious of their own decisions, or trained little monkeys who take Prozacs and Lexotans and do not question themselves as to why they need these legal substances?
Readers, let's open our eyes to a very complex question that the Media and the State do not recognize and wish no to. Beyond a better definition of what is a drug, what we need is to construct a space where work will not be so alienating and not everything will be based on money: A revolutionary project, thus, more workable, and, certainly, more honest.
Carola Mittrany is a Narco News Authentic Journalism Scholar.

For more information, see:
1. Christiane Moema Alves Sampaio & Marcelo Araújo Campos. Drogas, Dignidade e Inclusão Social: A Lei e a Prática de Redução de Danos. Associação Brasileira de Redutores de Danos. Rio de Janeiro, 2003.
2. "A Drug Policy from Below," by Al Giordano, Narco News.
3. Maierovitch ,Walter. "Os Efeitos Econômicos da Cannabis. In: Revista Carta Capital. São Paulo, 2003.

Publisher's Message to Other Publications: We're flattered that so many publications increasingly want to republish reports, like this one, from Narco News. Unfortunately, as our readership increases (approaching four million hits per month this May of 2003), theft of these reports by commercial organizations, and even by some "alternative" news organizations, especially those in the United States and Europe, indicates that some people apparently think they need not respect the guidelines set forth in our Editorial Policy.

Beyond the looming NY Times-like problems regarding plagiarism or theft by said organizations, publications that redistribute (online or via email) our stories without including the informational links to source information embedded in our reports do so at their own legal risk; with some reports it could be deemed as in reckless disregard of the truth to republish allegations about powerful interests without giving the reader access to the documenting source links that we provide. Furthermore, it is unfair to the readers, to the authors (the workers), and to the search for the whole truth.

Let's talk truth: There is too much reproduction on the Internet when what society needs is authentic production of authentic news. If you're one of the reproducers, listen up: In the time you spend repackaging our original work to impress your donors or advertisers, implying credit to your own project for the labor of others, you could be investigating and writing your own original reports and contributing authentic news instead of recycling the work of others and adding to the morass of repetition and reproduction that plagues the Internet today.

Of course, to those publications that have made good use our work and that of our Authentic Journalists in accordance with our Editorial Policy regarding redistribution, and who will do so in the future, we thank you and extend our warm hand of friendship and goodwill.

– Al Giordano, publisher
Narco News is funded by your contributions to The Fund for Authentic Journalism. Please make journalism like this possible by going to The Fund's web site and making a contribution today.

- The Fund for Authentic Journalism
For more Narco News, click here.