Rio de Janeiro to Discuss the Drug War
Friday Forum Features Gabeira, Soares, Karam, Szterenfeld, Narco News, and More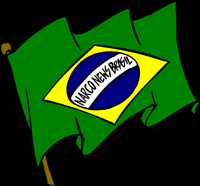 By Narco News Staff

A Copy of the Invitation is Included
May 15, 2003
Two dozen of Brazil's leading non-governmental organizations and Narco News invite you on Friday to an all-day discussion between Civil Society and public officials about drug prohibition's impact on Rio de Janeiro.
The event goes from 9 a.m. to 7 p.m. at the Federal University of Rio de Janeiro (UFRJ), Larco de São Francisco, s/n, in the IFCS salon… all day on Friday, May 16th, and the public is invited to participate.
Among the featured speakers are national Congressman Fernando Gabeira, national Public Safety Secretary Luiz Eduardo Soares, Judge Maria Lúcia Karam, Célia Szterenfeld of Aborda (Brazilian Harm Reduction Association), and Elizabeth Leitão of the national Human Rights secretary of the administration of President Lula da Silva, and others.
The forum begins at 9 a.m. with a discussion between leading members of Civil Society and the representatives from the executive, legislative and judicial branches of government to "help in the formation of a new Brazilian drug policy capable of impeding the increase of violence and the power of narco-traffickers."
In addition to Gabeira, Soaras, Karam, Szterenfeld and Leitão, this discussion will also feature union leader Eraldo José de Souza, Cándido Grzybowski of the World Social Forum and the Ibase human rights organization, and will be chaired by Regina Novaes.
Narco News Publisher Al Giordano will co-chair the conference's two-hour work group on "Production, Market, and Money Laundering" with professor Ana Motta and Michel Misse. at 2:30 p.m.
Three other work groups – Youth Policy (co-chaired by Marcelo Rasga and Atilo Lulianelli, Drug Policy (co-chaired by Luiz Paulo Guanabara of Psicotropicus and Gilberta Ascelrad), and Violence, Human Rights and Drug-Trafficking (co-chaired by Itamar Silva of the Bento Lubião Foundation and Leni Medeiros) – will also be open to the public.
From 5 p.m. to 7 p.m. will be an open discussion for all present to participate in formulating the new drug policy from below, one that answers not to the special interests, but to the public interests.
The event is being held in preparation for the Social Forum of América to be held June 16 to 20 in Cartagena, Colombia on Democracy, Human Rights, Wars and Narco-Trafficking.
Narco News readers and others are cordially invited. The event is free of charge.
Lea Ud. el Artículo en Español
Leia este artigo em português

Narco News is funded by your contributions to The Fund for Authentic Journalism. Please make journalism like this possible by going to The Fund's web site and making a contribution today.

- The Fund for Authentic Journalism
For more Narco News, click here.