Buendía Calls for "Exorcism" of Drug War
Advisor to Ecuador's President Blazes New Trail in Mérida Summit
By Reed Lindsay

Narco News Authentic Journalism Scholar
February 20, 2003
Newly elected Ecuadorian President Lucio Gutierrez has been a harsh critic of the drug war and U.S. intervention in South America. In a July 2001 interview with The Week Online conducted in El Salvador, Gutierrez railed against Plan Colombia, calling it "a massacre of innocent people" and "environmental terrorism."
Since being elected, however, Gutierrez has toned down his discourse against Plan Colombia as he negotiates with the International Monetary Fund (IMF).
But leading members of the Pachakutik Movement, the political branch of the nation's largest indigenous organization, CONAIE, and the driving force behind Gutierrez's electoral victory, continue to criticize U.S. drug policy openly in the region.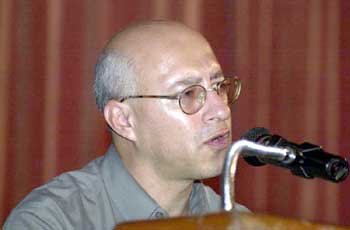 Pachakutik Movement leader Fernando Buendia
speaks at the "Out From the Shadows" conference in Mérida
Photo D.R. Jeremy Bigwood 2003
On Friday, February 13, Fernando Buendía, a member of the Executive Committee of the Pachakutik Movement, and an advisor on behalf of the party to the Economy Ministry, blasted the U.S.-led drug war in the region, and blamed the societal ills inherent in capitalism as the root problem of drug addiction.
"Now is the time to exorcise the invented demon of this century, because behind the war on drugs are imperialist objectives," said Buendía, speaking to several dozen people at the Out from the Shadows drug legalization conference in Mérida, México. "Behind the Plan Colombia and the (U.S. Military) Base at Manta might be the intention to militarize the region and to guarantee access to and control of the Amazonian basin."
Wedged between the coca-producing countries of Colombia and Peru, Ecuador is a major point of transit in the shipment of cocaine to the United States, and its dollarized economy has become a magnet for money laundering, according to Buendía. Until now, Ecuador has not produced significant amounts of coca, although recently laboratories have been detected near the Colombian border.
In a November interview with Narco News, Buendía denounced the docking of U.S. Navy ships at Manta, which would be a violation of the agreement limiting United States activity to air operations. Buendía also questioned improvements to the base's airfield as an indication that the United States might intend to use Manta for more than just drug interdiction, which would also violate the agreement.
The underlying reason for U.S. military presence in the Andean region is not drugs, said Buendía, but the Amazon's natural resources. The Amazon contains 30 percent of the planet's biodiversity and 35 percent of its water reserves, among other untapped riches, he said.
"Who benefits from narco-trafficking?" asked Buendía. "Analysts say that 95 percent of the money that enters the United States, stays in that country. How can (the United States) incorporate a sum greater than 100 billion dollars into its economy? Evidently, only with the complicity of government officials."
Buendía opened his speech describing an indigenous group in Ecuador that uses a hallucinogenic brew called ayahuasca, made from the mixture of two Amazon plants: bannisteriopsis Caapi, containing harmala alkaloids, and coleus-like plants from the Psychotria genus, which contain dimethyltryptamine, or DMT. This indigenous community does not suffer from drug addiction, he said, but instead the plant forms a constructive part of their spiritual and social lives. In contrast, Buendía pointed to the widespread problem of addiction in Western capitalist countries, and suggested that dependence on drugs was a symptom of the alienation fostered in these societies.
Buendía finished his 20-minute speech with a call for a change to the U.S.-promoted drug war.
"The drug war is just another manifestation, along with environmental destruction, extreme poverty and cultural perversion, that proves the system is not making progress, and that it needs to be modified," he said.
Full Disclosure: The author wishes to acknowledge the material assistance, encouragement, and guidance, of The Narco News Bulletin, The Narco News School of Authentic Journalism, publisher Al Giordano and the rest of the faculty, and of the Tides Foundation. Narco News is a co-sponsor and funder of the international drug legalization summit, "OUT

FROM THE SHADOWS

: Ending Prohibition in the 21st Century," in Mérida, Yucatán, and is wholly responsible for the School of Authentic Journalism whose philosophy and methodology were employed in the creation of this report. The writing, the opinions expressed, and the conclusions reached, if any, are solely those of the author.

Apertura total: El autor desea reconocer la asistencia material, el ánimo y la guía de The Narco News Bulletin, La Escuela de Narco News de Periodismo Auténtico, su Director General Al Giordano y el resto del profesorado, y de la Fundación Tides. Narco News es copatrocinador y financiador del encuentro internacional sobre legalización de las drogas "Saliendo de las sombras: terminando con la prohibición a las drogas en el siglo XXI" en Mérida, Yucatán, y es completamente responsable por la Escuela de Periodismo Auténtico, cuya filosofía y metodología fueron empleadas en la elaboración de esta nota. La escritura, las opiniones expresadas y las conclusiones alcanzadas, si las hay, son de exclusiva responsabilidad del autor

Abertura Total: O autor deseja reconhecer o material de apoio, o propósito e o guia do Boletim Narco News. a Escola de Jornalismo Autêntico, o editor Al Giordano, o restante de professores e a Fundaçáo Tides. Narco News é co-patrocinador e financiador do encontro sobre a legalizaçao das drogas Saindo das Sombras: terminando com a proibiçao das drogas no século XXI em Mérida, Yucatan, e é completamente responsável pela Escola de Jornalismo Autêntico, cuja filosofia e metodologia foram implantadas na elaboraçao desta reportagem. O texto, as opinioes expressadas e as conclusoes alcançadas, se houver, sao de responsabilidade do autor.
Narco News is funded by your contributions to The Fund for Authentic Journalism. Please make journalism like this possible by going to The Fund's web site and making a contribution today.

- The Fund for Authentic Journalism
For more Narco News, click here.