Announcing 20 Scholarships for the November 9-12 School of Authentic Journalism in Mexico
For this Intensive Training in Reporting on Social Movements, Completed Applications Are Due on August 30
By Greg Berger

Class of 2004, Director of Admissions 2015
July 23, 2015
This report appears on the internet at http://www.narconews.com/Issue67/article4811.html
The School of Authentic Journalism is pleased to announce its next session to be held November 9 through 12 near Mexico City. This year the Fund for Authentic Journalism will grant 20 scholarships to writers, reporters, communicators, bloggers, artists, cineastes, photographers, editors, radio conductors, technicians, community organizers and webmasters who communicate about social movements.

The cartoonist and graphic artist Augusto Mora shares his experiences at the 2014 School of Authentic Journalism. Photo

DR 2014

by Uriel Pérez.

The program is an intensive four day training session that will share skills and techniques for writing, reporting, photography and video and how to promote information via the Internet and other paths, as well as training on nonviolent civil resistance and the design of social movements that are organized with the goal of winning their battles.

It's been eleven years since I attended Narco News' School of Authentic Journalism as a scholar, in 2004 in Bolivia. What I learned there improved my filmmaking, changed the direction of my work, and also my life for the better.

So when the School's founder and president Al Giordano asked me to write this announcement, all I could think of was how many of you are out there who can now win the same opportunity.

Before this letter is done we'll give you the email address to obtain your application and other information you'll need to complete it by the August 30 deadline to be able to attend the November 9-12 school. But first, a few words about why you might want to be part of it.

Maybe you're like I was: You want to change the world, you have some talent at video or writing and reporting or on the Internet or have other communications skills, but you want to become better at it, and do it in a way that really does help our movements and communities win battles rather than just march around and lose them again and again.

More than 500 people have attended the School in the past 12 years. It's the only school I know of that charges no tuition and where the professors are volunteers (and most of us graduates of the school). I learn as much every year as a professor as I did the first time.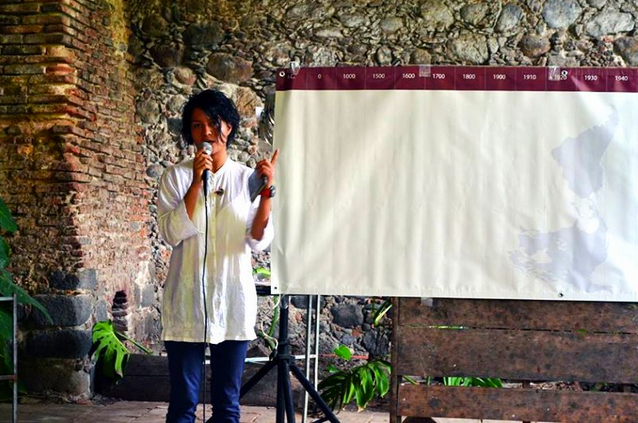 Fabiola Rocha (class of 2013) opened the 2014 session of the school with a brainstorm session on successful social movements throughout history. Photo

DR 2014

by Uriel Pérez.

This year, Al asked me to captain the fundraising drive on Kickstarter to raise the resources to make the school possible. As such, I was a student once again, learning yet another new skill: how to raise money for the cause. That the drive was a success means that the school can happen this coming November.

Soon we'll announce the full slate of professors - there will be roughly one for every scholarship recipient - but let me tell you who has been confirmed so far:
• Oscar Olivera of Cochabamba, Bolivia: The spokesman for the "Water War" of 2000 that stopped the privatization of water not just in his region, but led to similar movements around the world by proving it can be done.


• Mercedes Osuna, of San Cristóbal de Las Casas, Chiapas, México: During the first years of the Zapatista indigenous rebellion in Chiapas, Mercedes directed Enlace Civil, the NGO that trained and sent, on invitation, national and international human rights observers and journalists to Zapatista communities to learn and work with them. Among her trainees: Our school's founder, Al Giordano.

• Renny Cushing of New Hampshire, US: As a young man in the 1970s, Renny helped organize the Clamshell Alliance, its community organizing to turn public opinion against a proposed nuclear power plant for his town, and inspired a national movement that stopped new nuclear plants in his country. Today Renny is a leader and organizer of the national movement to end the death penalty in the US. We're lucky that he speaks excellent Spanish, so he can share his lessons with our scholars once again.

• Johanna Lawrenson of New York City, US: Johanna and her late husband Abbie Hoffman organized a successful environmental movement to stop a megaproject along the St. Lawrence River that divides Canada and the US in the 1970s, and now runs the Abbie Hoffman foundation, teaching the organizing techniques pioneered by the United States' most famous political dissident of the last half century.
Note that each of these professors has organized real political battles and won them. At the School of Authentic Journalism, we believe that those who can best teach us to win with social movements are those who have already done so.
Many of the other professors will be people like Al and I: Journalists and media makers who have walked many years alongside social movements, learned from them, and applied their lessons to our way of doing authentic journalism.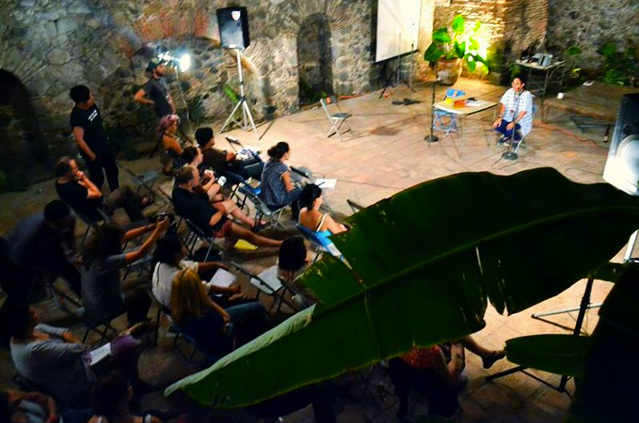 Mercedes Osuna at the 2014 school giving her popular workshop on Journalist Safety in Conflict Zones that also shares her experiences in what journalists should avoid doing that can put local communities at greater risk. Photo

DR 2014

by Uriel Pérez.

Al Giordano is well known to his readers all over the world, especially in Latin America, Mexico and the United States. His 2001 court victory in the Banamex vs. Narco News case won press freedom protections for all Internet journalists. His journalism has helped countless movements achieve their goals and helped stop numerous harmful corporate projects and even topple tyrants.

Fabiola Rocha (class of 2013) is the director of the School of Authentic Journalism, a writer, a video maker, a dramaturge, and an experienced leader of training sessions in nonviolent civil resistance throughout Mexico. This is a school that trains journalists to think from both sides of the camera - both as communicators and as organizers - to be better able to report on the strategy and tactics of movements.

Laura Garcia is a Mexican native, writer, reporter, video maker and photojournalist now teaching journalism at the University of Kent in England, although still in her 20s. A graduate of the 2012 School of Authentic Journalism, she has been a professor ever since.

Miguel Angel Angeles has worked with the Narco News team for the past decade as well as writing and conducting radio programs for major news organizations in Mexico over these same years.

Heather McCuen of Montreal, Canada (class of 2012) and I will again coordinate the video side of the course, everything from how to use a video camera to how to edit video to how to write and plan a video to help it "go viral" on the Internet and throughout the media.

And of course, the two "professors with tenure," as Giordano calls them - Maia Facen & Tiberio Tinarelli - will return as the school's social directors, behind the bar during the nighttime plenary sessions and animating us all 24/7.

We'll announce more of this year's professor group soon - some will have graduated just last year and will return this year to learn to teach what they know. That's how this School has always rolled: training and building leadership not just in the skills, but also in how to teach those skills.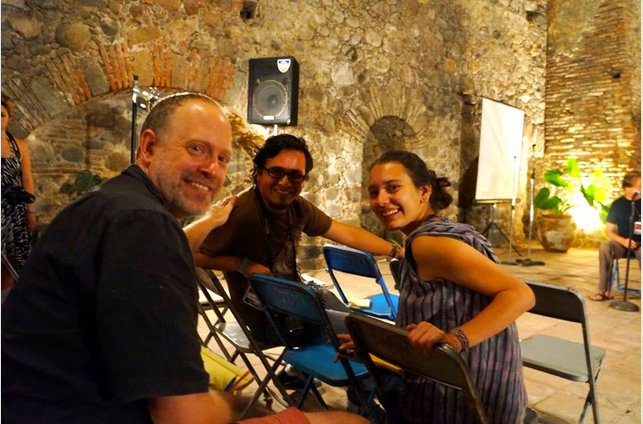 Aran Shetterly, Augusto Mora and Daniela Castillo share a moment before an evening plenary session at the 2014 school. Photo

DR 2014

by Fabiola Rocha.

The School this year will also have a new online meeting place to prepare before it starts and continue the training into the future. In the past we have used Facebook groups to do that but let's face it, Facebook has become far too commercial and manipulative to host an authentic journalism school's work. So Narco News and the School of Authentic Journalism, along with many of our team, are in the process of moving to Tsu: the new social media that shares 90 percent of the ad revenues with those of us posting the content.

The Fund for Authentic Journalism has already received more than $600 through shared ad revenues and donations by other Tsu users since early May: more than it ever received during six years on Facebook! These resources will likely allow us to grant more than the 20 scholarships we've promised this year.

We invite our readers - whether you apply to the school or not - to join the new social network that will be the next online base of the Authentic Journalism renaissance. Just click this link, find the "JOIN" button on the upper right corner, and click: http://tsu.co/AuthenticJournalism.

That's also the place to ask us questions about the School and its application process now.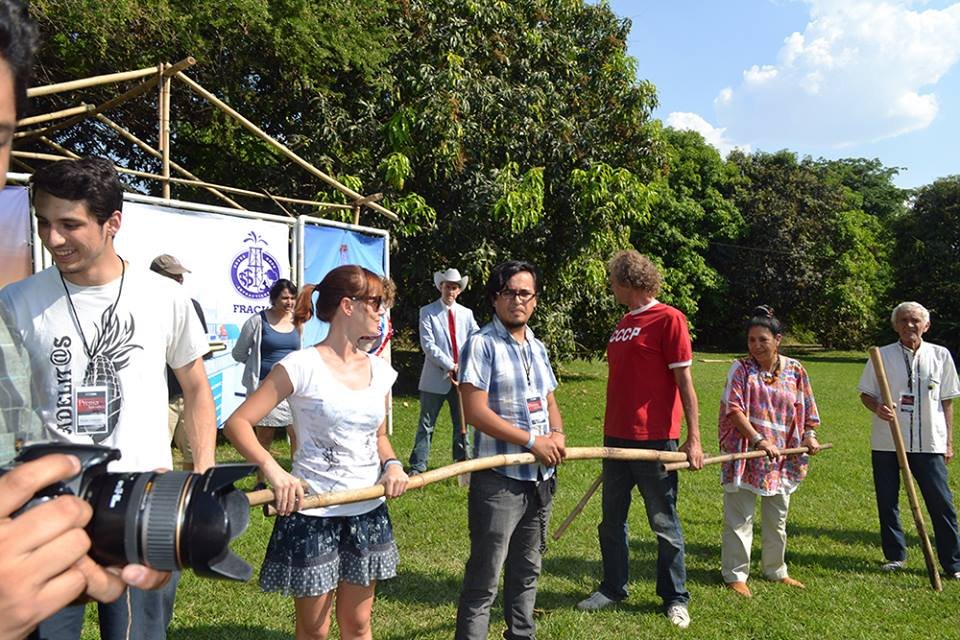 At the 2014 school the training in nonviolent resistance included a role play on a protest against a fracking company, giving journalists the experience of thinking and acting like those on all sides of a conflict. Photo

DR 2014

by Uriel Pérez.

How can you apply to the school? Simply send an email to solicitud2015@narconews.com and we'll send it out right away.

NOTE

: The application, like the 2015 school, is in Spanish. If we find more resources to do a bilingual school we'll announce that and make it available in English, too. But you must have basic Spanish-language skills to be considered this year. The application is long and includes an essay question. Part of the reason for that is to weed out lazy people or those who don't really want it enough.

Completed applications are due at midnight August 30 and we'll let you know by the end of September whether you've been invited for the 2015 session.

It was the best decision I ever made to apply for the School of Authentic Journalism eleven years ago.

Many of our graduates every year tell us that.

Maybe you will after attending the 2015 session.

On behalf of the entire team at Narco News and the School of Authentic Journalism,

Greg Berger
Class of 2004, Admissions Coordinator 2015



For more Narco News, click here