Why I'm Grateful for Narco News
After Ten Years, this Newspaper Has Demonstrated that Yesterday's Heretic Is Today's Visionary

By Greg Berger

Class of 2004, School of Authentic Journalism
January 13, 2011
Dear Friend,
You and I have something very much in common.  We both have cause to be grateful to Narco News.
One of the original objectives of Narco News was to report on the so-called "Drug War" waged by the United States in Latin America in such a way as to unmask the misguided policy of drug prohibition for what it was then and what it still is today: a costly sham that provides cover for a systematic assault by the powerful on authentic democracy movements in Latin America.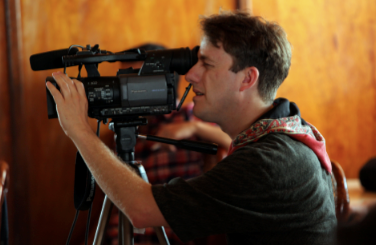 2004 School of Authentic Journalism graduate Greg Berger returned to the school as professor and co-director of its viral video production work group in 2010, a role he'll repeat at the next session
in May of 2011.

DR 2010

Noah Friedman-Rudovsky.
Ten years ago, you could not publish what I just said in that previous paragraph without being branded as an irrelevant extremist.  The journalists at Narco News did so anyway. They were attacked in the courts and dismissed by the powerful media establishment, and yet they did not waver.
And, as so often occurs, yesterday's heretic is today's visionary.
Today, as militarized drug prohibition continues to wreck lives in my adopted country of Mexico, my anger and sadness is matched by my gratitude to my colleagues at Narco News.  I am grateful because today, as I know well from my work in the field, a silent majority of politicians, law enforcement agents, and yes, journalists covering beats in the Southwest US, in Mexico, and in the rest of Latin America, will tell you off-the-record that the drug war is a failure. And a growing number of those individuals are gradually gathering the courage to come out against the Drug War on record. Narco News has been an important part of that collective paradigm shift, and the inevitable result will be the gradual defunding and dismantling of the Drug War.
Writer Philip K. Dick once said that: "The authentic human being is one of us who instinctively knows what he should not do, and, in addition, he will balk at doing it. He will refuse to do it, even if this brings down dread consequences to him and to those whom he loves. This, to me, is the ultimately heroic trait of ordinary people; they say no to the tyrant and they calmly take the consequences of this resistance."
The same can be said for authentic journalists. Ten years ago, Narco News called it like it was, and said no to the tired practices of commercial journalism.  They said no to the failed policy of the drug war.  It was a resounding and unequivocal "no" whose echoes continue to be heard today.
Other online news sources, still in diapers, have finally "discovered" things that Narco News pioneered ten years ago, like the model of reader-funded journalism and the need to expose the Drug War and other imperial folly.
But Narco News remains far ahead of the curve.  Because in the ten years since NN was founded, it has grown by leaps and bounds every year, covering stories as urgent and as diverse as the Zapatista struggle in Chiapas, the siege of Oaxaca, the grassroots resistance to coups d'etat from Venezuela to Honduras and popular movements in from throughout the hemisphere.
I have one other motivation for my gratitude to Narco News, and perhaps it is one that you and I have in common.  You see on the one hand, I am thrilled to say that there are more online news outlets reporting on issues in Latin America from a people's perspective than ever before.  Yet unfortunately, their nearly universal Achilles Heel is their lack of a sense of humor.  I produce political humor on US policy in Latin America, and for years stone-faced dinosaurs from the old Left have told me there was no time for comedy in such serious times.  How wrong they were. This year we launched Narco News TV and our online comedies have brought urgent messages to many hundreds of thousands of viewers who might not have paid attention to our message in any other medium.
Meanwhile, fine reporters like Bill Conroy, Erin Rosa, and Fernando León continue to report on the Drug War with more insight, accuracy, and analysis than any other online newspaper.
Like you, I am grateful to Narco News.
Let's show our gratitude by making sure it continues to thrive in 2011.
Please make a donation today, online, at this link:
http://www.authenticjournalism.org
Or you can make a check out to:
The Fund for Authentic Journalism
PO Box 1446
Easthampton, MA 01027 USA
Thank you,
Greg Berger
Click here for more Narco News coverage of Mexico
Lea Ud. el Artículo en Español

Narco News is funded by your contributions to The Fund for Authentic Journalism. Please make journalism like this possible by going to The Fund's web site and making a contribution today.

- The Fund for Authentic Journalism
For more Narco News, click here.