Proudly an Authentic Journalist
Narco News' School of Authentic Journalism Changed My Life; Please Help It Help Others Like Me
By Karina Montserrat González González

Class of 2010, School of Authentic Journalism
September 23, 2010
Dear Narco News reader,
Looking at the four walls and listening to the echo of my breathing, moments of my life came into mind. They began with some that were not very good and without a doubt I decided better to laugh and review, frame by frame, the life that I've lived over the past six months.
When one Sunday I received a call from someone named Al Giordano who spoke Spanish with a gringo accent but with a very authentic spirit, I still didn't understand what the School of Authentic Journalism was and exactly what I had to do there. It wasn't until February 3 that arriving at the Cancún airport I began to live the craziest adventure I could have imagined.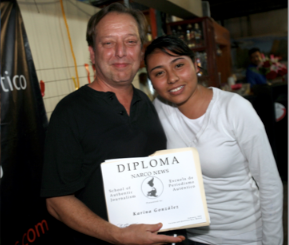 Karina Montserrat González González received her diploma from Narco News publisher Al Giordano at the 2010 School of Authentic Journalism in her native country of Mexico. She has continued to volunteer as a video editor with Narco News TV since the February j-school, as well as produce quality journalism, organize and recruit more authentic journalists, in her home state of Guanajuato.
Photo: D.R. 2010 Noah Friedman-Rudovsky
The inauguration of the 2010 School of Authentic Journalism allowed me to see a little bit about my companions there, and that's when I realized that I wasn't the only one like me in the world, that there are others who believe in justice, in honesty, in the struggle and the resistance to being like everyone else, but rather that we all want to be authentic. And to be able to edit writings, produce videos and upload to the Internet realities that serve as the voice for all who can't express themselves freely.
It's a fact, the Narco News School of Authentic Journalism and the experience of learning from my colleagues there changed my life. If I had to choose between four years at the university or ten days of work with those authentic journalists, without a doubt I would choose the second, as it is there that I really learned about journalism. I understood that it is not necessary to win a thousand prizes to be able to be good at what one does, but rather to be honest and free to be able to bring freedom to others through what you write.
I was part of the viral video work group for ten intensive days of videotaping, editing and fiestas, that left me with an experience more practical than what editing is which is to edit video in ways that divulge the truth. And I was witness to the influence that images and sounds can have and what can be said through them.
My name is Karina Montserrat González González, I'm 22, I'm Mexican and I was born in the city of Guanajuato, a state of the Mexican Republic where speaking of sex, homosexuality and human rights is like speaking of the most sinful and nonexistent things. Whatever is not rich, Catholic and of the ultra-right here has no voice nor vote. But thanks to the School of Authentic Journalism, I decided to continue with my work of giving voice to all those who are judged and who are not permitted to say what they feel.
I would not have been able to continue my life in journalism without that phone call from Al, informing me that I had been selected as a student at the 2010 School of Authentic Journalism. And that call could not have been made at that moment without the collaboration and economic support of all of you who donated to the Fund for Authentic Journalism.
Without a doubt I am more than convinced that the Narco News School of Authentic Journalism is project of apprenticeship, education and freedom, which not only forms journalists but also helps create more media from the members of the public. And yet we still lack more active media making social demands and that's why I ask you to consider being part of this great project in which you can change the lives of many like me.
To donate online you can click this link:
http://www.authenticjournalism.org
Or you can send a check to:
The Fund for Authentic Journalism


PO

Box 1446
Easthampton,

MA 01027
Thank you for your support,
Karina Montserrat González González
Class of 2010, School of Authentic Journalism
Lea Ud. el Artículo en Español

Narco News is funded by your contributions to The Fund for Authentic Journalism. Please make journalism like this possible by going to The Fund's web site and making a contribution today.

- The Fund for Authentic Journalism
For more Narco News, click here.