Institutional Violence In Acámbaro, Southern Municipality of Mexico's Guanajuato
Acámbaro Besieged by Hundreds of Police With Weapons and Masks, With Some Dressed in Civilian Clothes in Unmarked Vans
By Andrés Casar

Special to The Narco News Bulletin
May 4, 2011
This report appears on the internet at http://www.narconews.com/Issue67/article4405.html
Acámbaro, a city with nearly 60,000 residents in south Guanajuato, was suddenly invaded at 10 a.m. on Tuesday by more than fifty state police units, and possibly federal police. With them there were numerous new vans without license plates, but with flashy rims. Each unit was headed by three to seven police officers, some of them in state uniforms, some without uniforms, some dressed in black, and others as civilians. All of them were masked and had high-powered weapons.
The state police forces surrounded the city, blocking all of the entrances and taking control of the municipal public safety building, allegedly as part of an operation against narco-trafficking. They raided residential houses and invaded the city's streets.
Since the beginning at 10 a.m. they took the municipal public safety building, apprehending all of the staff, including administrative workers and secretaries. All of the detainees were taken out of the city as part of the operation and brought to the town of Celaya, according to a comment from a municipal official.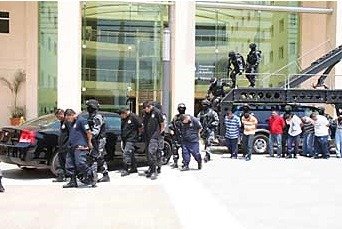 Seizure of municipal employees in Tarandacuao, Gto. Photo,

DR 2011

, alertaperiodística.com

Throughout the morning and a part of the afternoon countless police convoys patrolled the streets of Acámbaro looking for local police agents, sometimes doing Hollywood style persecutions in the streets downtown.

Guanajuato's supposed protectors of law and order also entered the houses of local police agents, where they threatened family members at gun point, including women and children-all of it without a warrant. They hit at least one woman in the face, according to a family member of one of the detained police.

Family members of the local police, traffic officers, secretaries, and cleaning workers wandered all afternoon between the municipal safety building and the mayor's office, waiting for information about the reason for the detentions or the whereabouts of their relatives. There has been no information coming from the three levels of government.

National and state media outlets inquired about Acámbaro, but nobody has given them official information. So far there is no official release online from state authorities.

The state police seem to assume they can besiege a city like Acámbaro or Tarandacuao, and do so with great violence and excessive force, using uniformed forces and other forces disguised as narcos to terrify an entire city without giving the least bit of explanation or information. Surprisingly, they even beat innocent people and left the city in that state.

What is the Guanajuato government doing? Creating a collective psychosis? Why? To make national news?

What happened yesterday in southern Guanajuato is akin to a drunk father who destroys his house and yells in order to correct a small child for something bad.

Is apprehending the local police, traffic officers, secretaries and janitors who are under municipal payroll so complicated? Or is it a test to see if they can get away with it?



For more Narco News, click here