Communities in Jalisco Organize for the Final Battle Against the El Zapotillo Dam
In Addition to a Legal Strategy, Residents are Betting on Community Organizing
By Fernando León

Special to The Narco News Bulletin
March 23, 2011
This report appears on the internet at http://www.narconews.com/Issue67/article4336.html
Last February, communities that would be affected by the construction of a dam in the Mexican state of Jalisco won a legal victory against the state and federal governments that were planing to build it. The government is continuing to build the dam despite a legal injunction the residents obtained against the project. Now the people are reorganizing to end the project and to preserve their historic communities once and for all.
The National Water Commission (CONAGUA in Spanish initials) and the state government in Jalisco announced the construction of the El Zapotillo dam six years ago. The dam would block water from the Río Verde in the Jalisco highlands and be routed to the state's capital city Guadalajara, along with the city of León in the neighboring state of Guanajuato. Temacapulín, Acasico and Palmarejo, communities that would be directly affected, have begun to organize to stop their towns from being wiped out.
The construction of the dam would flood the communities and displace residents, despite the fact that the communities in the region have a rich cultural history. A member of the Mexican Institute for Community Development (IMDEC in Spanish initials), an organization that has accompanied residents since the beginning, commented in an interview that those who would be directly affected "amounts to 700 people." However, it was said that "those indirectly affected include the municipalities of Tepatitlán, Zapotlanejo, and Acatic...and they will be affected because that water from the Río Verde will be routed to the León Guanajuato valley and stop flowing." In total, "we are talking about 2,000 people who would be affected," it was said.
The IMDEC states that the population of Temacapulín "lives in a way where 400 people stay year round and 2,000 young people have left to live in Monterrey, Mexico City, and the United States." Since 2005 when the construction of the dam was announced, residents organized to stop the project. Today, almost seven years later, the IMDEC states that "the community [of Temacapulín] continues to resist and is organizing new actions." The new actions seek to provide international visibility to their cause by organizing meetings with those affected by similar projects throughout the world.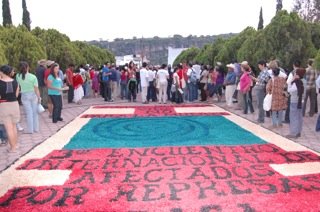 The Third International Meeting of People Affected by Dams and their Allies held in October 2010 in Temacapulín, Jalisco. Courtesey of Oscar Olivera.

Last October, they held the Third International Meeting of People Affected by Dams and their Allies. Oscar Olivera, a historic community leader of water struggles in Bolivia, attended the meeting. In 2000, Olivera organized what is known as the "Cochabamba water wars," where he and the people there successfully managed to protect the water in the Bolivian city from foreign multinational corporations that sought to control the vital resource.

After the community of Temacapulín won the injunction in a state court to suspend the project, Narco News talked with Olivera about the case and his personal experience in the communities resisting the El Zapotillo dam. To Olivera, Temacapulín "is a very well organized and valiant town. " In 2009 he went to the town for the first time and shared the experience he had almost a decade earlier in Cochabamba. He says there he told the people that "when a small 'town' like Bolivia can confront such enormous powers-not just political powers like the army and the police, but also economic ones-it is important that people learn and share what they learn. In that way they don't feel alone, abandoned, or weak. "

Olivera noted that the struggles driving Cochabamba and Temacapulín are very similar. "The governments are despised, the multinationals have the laws in their favor, the army and police are involved, and there is the same fear," he says. "It was so common it was as if we were talking with people in Cochabamba nine years ago."

The fortitude that the Bolivian people achieved in the water wars was something that was attained gradually, Olivera says. For him, another similarity is that "the people are non-existent" to those who govern. However, he stated that in the case of Temacapulín this condition should be exploited to "generate the indignation and anger that builds the bonds of solidarity and articulation with other peoples." Olivera notes that "in Cochabamba we were five people at first, and we turned that into half a million, and there was no force that could stop us." That is something that can happen in the case of Jalisco and other parties in similar situations, he notes.

For Olivera the legal victory in the community is a "boost for victorious residents, in enemy territory." However, the government has continued the construction because it has began a counter suit. The community, IMDEC says, "is fighting to the very end to achieve the permanent suspension of the dam," along with a "population center" the government has begun to construct for the displaced communities to stay.

In addition to the struggles the community is making in other areas, the successful injunction could cancel the construction work that has been done in Temacapulín, where "a mood prevails that the struggle is legitimate, and that the community is right," the IMDEC states.

The affected communities are optimistic that they will be successful in stopping the dam that would flood their homes and displace them from their lands. Oscar Olivera thinks that they will win, since he says that in the end "the people are who make the history and the struggles."



For more Narco News, click here